Leon Collins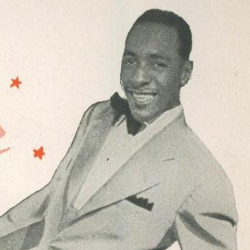 Leon Collins, tap virtuoso who inspired a new blend of jazz and classical music, placing an innovative focus on melody rather than rhythm alone, and who believed that "Dancing is the poetry of the body as music is the poetry of the soul," was born Leandre Kollins in Chicago, Illinois (2 February 1922), his father of West Indian descent. He learned to tap dance on the street corners and in pool halls, where young dancers gathered to copy and challenge each other, wanted to be a prizefighter, and played guitar with The Three Dukes, but in short time became a popular dancer in clubs around town. By the age of seventeen he left Chicago for Detroit, where he married up-and-coming blues singer Tina Dixon. The pair moved to New York City where Dixon, who was signed to perform with the Jimmie Lunceford Orchestra, opened the door for Collins' big break when she recommended her husband perform with the orchestra after the opening act called in sick one night. Billed as "Gangs of Dancing," Collins was offered a five-year contract with the Lunceford band and in the late 1930s also worked with the Count Basie orchestra in Chicago and New York, and with the bands of Erskine Hawkins, Earl "Father" Hines, Glen Gray and Tito Puente.
Collins' dancing in these early years included the usual steps that all hoofers had to know, such as wings, nerve taps, over-the-tops, and shuffle-flaps, as well as the requisite acrobatic splits and flips. But his style also embodied a clean, clear tapping with an emphasis on melodic line, which set him apart from other dancers. Where most hoofers would dance successive eight-bar rhythmic patterns broken up by moments of virtuosic flourishes or breaks, Collins did away with repetitive eight-bar/break patterns. His tapping instead flowed along with the melody, behaving more like a trumpet or a saxophone than a snare drum or tom-tom. "He wasn't dancing like the other guys," said his wife Tina. "He was different, dancing tap-for-tap, note-for-note." This preference followed the style of Baby Laurence Jackson, who Collins always accorded much respect, and of the dancer Teddy Hale, a friend with whom Collins always traded steps. These dancers were all intimately involved with the new developments taking place in jazz during the late 1940s and early 1950s. Their fast and free-form improvising was well-suited to the bebop that was being created by Charlie Parker and Dizzy Gillespie, who Collins jammed informally with on numerous occasions, expressing in his feet what they played on their horns, and developing a melodic style of tapping that grew from his own musicality. "Tap is music," said Collins. "We use our feet to get the same sound as an instrument." He, along with Laurence and Hale, were among the pioneers of the high speed, packed tempos of bebop-style tap dancing.
Dancing to such jazz standards as Dizzy Gillespie's "Night in Tunesia," Collins also interpreted Rimsky-Korsakov's "Flight of the Bumblebee" and Bach's "Prelude and Fugue in C Minor," dancing with disarming ease and shimmering speed. Dressed immaculately in a white or black tuxedo and bow tie, his sounds were soft and delicate at first, gracefully embellishing the pianist's rendition of Bach's "Prelude." But little by little, his movements grew more intense, his feet splashing the stage floor like summer rain pelting a roof, feet moving nimbly while the upper body remained still, as if allowing the feet to shoot the breeze with the piano.
The cruelest irony of Collins' career is that while he was developing jazz tap along the rhythmic and harmonic styles of the new bebop, opportunities for tap dancers were drying up across the country. While the emergence of bebop and the simultaneous decline of swing are cited as one reason for tap's demise in the late forties and fifties, traditional dancers who were not inspired by bop's intricate rhythms and unpredictable harmonic changes were duly reluctant to make innovations on their own style and move it forward with the new music. At any rate, as big bands died out, rock and roll became popular music, television became the country's premier entertainment medium, and ballrooms no longer were the social meeting places, tap dancers had found less and less work. Collins managed as best he could during this cultural and musical transition. He formed partnerships with other dancers to increase his performing opportunities; he learned to play the guitar, and attended the Berklee School of Music in Boston. By the early 1960s, he was forced to give up dance entirely and for the next fourteen years, he worked as a polisher and reupholsterer of used cars. Gradually drifting away from show business circles entirely, he became an avid golfer and played cards with a small social group, the Salt and Pepper Club.
In the mid-seventies, as the tap revival gained its impetus, Collins' dance career began to defrost. In 1976, his performance with a number of other formerly retired dancers in a tap revival show at Boston's New England Life Hall led to a new and unexpected line of work-- teaching for the revered tap instructor, Stanley Brown. For Collins, one night of teaching a week turned quickly into three or four, and when Brown died in 1978, Collins took over his studio, where his patience and kind, supportive demeanor became legendary. He was soon teaching for the Radcliffe Dance Program and the Harvard Summer Dance Center; and his own school, renamed the Leon Collins Dance Studio, in Brookline, MA, became home to dozens of students, young and old, who wanted to learn the art. Among them were such important tap artists as Dianne Walker, Pamela Raff, and C.B. Hetherington (later Clara Brosnaham Wirth) who became his protégés, and after his death, continued to manage his school.
Collins' studio also became a catalyst for his powers of invention. By the end of his career he had created nearly a dozen routines, extended a cappella dances that covered virtually the entire range of his own tap vocabulary. These routines, with names like Routine 1, "The Waltz," and "Tapapella" are still taught at the studio by Pamela Raff; and further preserved in written form by pianist Joan Hill using a system of tap notation she devised. In his performances with Hill, Collins created a new blend of classical music and jazz that is unique in the history of tap dance. The "Bach Prelude and Fugue in C minor," for example, comprised of jazz rhythms married to Baroque harmonies and counterpoint. Collin's signature work was Rimsky-Korsakov's "Flight of the Bumblebee" which segued into Cole Porter's "Begin the Beguine."
Collins's not only taught his students well but also launched their careers on the stage. As whenever he was asked to perform, he insisted they perform with him. Says Dianne Walker: "Leon gave me my foundation. He talked about being on time, he talked about money, he talked about clothes and about expression. He taught me everything that I know."
The air is free, and so is my tap," said Collins, who approached his compositions with a clear and understandable phrasing of crisp straight eighth notes accented and syncopated by clapping sections, quick turns, and sharp angular movements, dutifully executing on the left and right sides to giving his performance a certain predictability and satisfying comprehensibility. "All I'm really trying to do is put a smile on your face."