Lynn Dally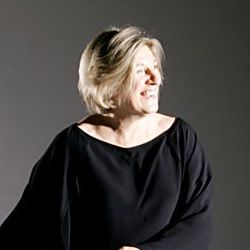 Lynn Dally co-founded Jazz Tap Ensemble in 1979 with Fred Strickler and Camden Richman. She is recognized for her role in the renaissance of tap dance in America. As dancer and choreographer, she has created a large body of original choreographies for the concert stage and performed in worldwide touring with the JTE. She has been honored to appear with tap legends Honi Coles, the Nicholas Brothers, Steve Condos, Brenda Bufalino, Sarah Petronio, Eddie Brown, Dianne Walker, Jimmy Slyde and Gregory Hines in venues from Carnegie Hall to the Apollo. As Artistic Director of the Jazz Tap Ensemble since 1986, she has continued to innovate in the field of rhythm tap with live jazz music, honoring the legends while mentoring gifted young artists. Favorite performances include Gregory Hines' Evening of Tap at Carnegie Hall, Maison de la Danse Biennale "An American Story," every JTE season at NY's Joyce Theater, Salzburg Jazz Fest, Paris' Theatre de la Ville, Hong Kong's Municipal Theatre, Madrid's Festival en Danza, the Smithsonian with Honi Coles, the Jazz Bakery in L.A.
Dally has received multiple choreographic grants from the National Endowment for the Arts as well as California Arts Council and Irvine Fellowships in Dance. Dally is the first tap dancer to be awarded the Guggenheim Fellowship in Choreography, with which she created Solea, a cross cultural rhythmic exploration for tap, flamenco, modern, and bharata natyam dancers. She performed in "Tap Divas" with Brenda Bufalino and Sarah Petronio at Tony Waag's NY Tap City Festival, and received an ATDF "Hoofer Award" for Choreography. In 2008, she hosted the first national conference of female tap dance artists, scholars, writers, and documentary filmmakers at UCLA, "Women in Tap." This led to the production of her first tap documentary, Gotta Move: Women In Tap which screened at the Lincoln Center.
In April 2012, Dally and the Jazz Tap Ensemble were selected by the US Department of State to represent the United States in a month-long cultural exchange, Dance MotionUSASM, in the African countries of Zimbabwe, Mozambique, and the Democratic Republic of Congo where JTE engaged with professional dance artists, youth ensembles, and at-risk youth populations in workshops, master classes, concerts and lively informal sessions. The Ensemble was both honored and privileged to be afforded this life changing experience.
Dally's several commissions include Ruby, My Dear for Seattle's Pacific Northwest Ballet, Tribute to Fred Astaire for the Getty Museum, Dancin' the Blues for City of Los Angeles, Bahia Dreams for Joyce Theater Foundation. Dally holds degrees from the Ohio State University and Smith College and was Adjunct Professor at UCLA in World Arts & Cultures/Dance and TFT's Musical Theatre Program 2000-2012. She mentored in Margaret Jenkins' CHIME/LA program 2011. Dally is featured in the new book, "TAP DANCING AMERICA: a Cultural History," by Constance Valis Hill, and in the documentary, "Thinking on Their Feet: Women of the Tap Renaissance," by Jenae Cutcher. Currently, Dally is celebrating JTE's choreographic legacy in her new five disc series, JAZZ TAP ORIGINALS, available at www.jazztapensemble.org
Lynn's Jazz Tap Ensemble travel to Africa as part of the US Department of State Culteral dance exchange "DanceMotion USA"