Peg Leg Bates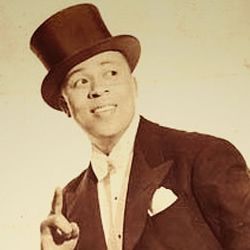 Peg Leg Bates (October 11, 1907-December 8, 1998) was born Clayton Bates in Fountain Inn, South Carolina, the son of Rufus Bates, a laborer, and Emma Steward Bates, a sharecropper and housecleaner. He began dancing when he was five. At twelve, while working in a cotton-seed gin mill, he caught and mangled his left leg in a conveyor belt. The leg was amputated on his kitchen table at his home. Though he was left with only one leg and a wooden peg leg his uncle carved for him, Bates resolved to continue dancing. "It somehow grew in my mind that I wanted to be as good a dancer as any two-legged dancer," he called. "It hurt me that the boys pitied me. I was pretty popular before, and I still wanted to be popular. I told them not to feel sorry for me." He meant it.
He began imitating the latest rhythm steps he saw dancers of metal-tap shoe dancers, adding his own novelty and acrobatic steps into the taps. He worked his way from minstrel shows and carnivals to the vaudeville circuits. Relearning how to dance with his wooden peg leg, Bates worked his way upward from minstrel shows and carnivals to the vaudeville circuits. At fifteen, after having become the undisputed king of one-legged dancers, able to execute acrobatic, graceful soft shoe, and powerful rhythm-tapping all with one leg and a peg, he established a professional career as a tap dancer. In 1930, after dancing in the Paris version of Lew Leslie's Blackbirds of 1929, Bates returned to New York to perform as a featured tap dancer at such famous Harlem nightclubs as the Cotton Club, Connie's Inn, and the Club Zanzibar.
On Broadway in the 1930s, he reinvented such popular tap steps as the Shim Sham Shimmy, Susie-Q, and Truckin' by enhancing them with the rhythmic combination of his deep-toned left-leg peg and the high-pitched metallic right-foot tap. As one of the black tap dancers able to cross the color barrier, Bates joined performers on the white vaudeville circuit of Keith & Lowe and performed on the same bill as Bill "Bojangles" Robinson, Fred Astaire, and Gene Kelly. In 1949 Bates sang and danced the role of the swashbuckling pirate, Long John Silver in the musical review Blackouts. "Don't give up the ship, although you seem to lose the fight; life means do the best with all you got, give it all your might," he sang in the Ken Murray musical that played for three years at the Hollywood and Vine Theatre in Hollywood, California. Wearing a white suit and looking as debonair as Astaire, Bates made his first television appearance in 1948 on This Is Show Business (a show hosted by Clifford Fatiman and Arlene Francis), performing high-speed paddle-and-roll tapping and balancing on his rubber-tipped peg as if it were a ballet pointe shoe. On the Ed Sullivan Show in 1955, Bates strutted his stuff as he competed in a tap challenge dance, countering Hal LeRoy's wiggly steps with airy wing-steps. "You're not making it easy," Bates chided, as he tossed off heel clicks and soared into a flash finish with Trenches (his body leaning forward on the diagonal and the legs kicking high to the back).
Bates made over twenty appearances on the Ed Sullivan Television Show, last appearing in a tap challenge dance with "Little Buck" on August 22, 1965. While television gave him greater notoriety than ever before, Bates continued to pursue a variety of performance venues. In1951 he invested his earnings and with his wife, Alice, purchased a large turkey farm in New York's Catskill Mountains and converted it into a resort. The date of his marriage to Alice is not known; it lasted until her death in 1987. They had one child.) The Peg Leg Country Club, in Kerhonkson, New York flourished as the largest black-owned-and-operated resort in the country, catering to black clientele and featuring hundreds of jazz musicians and tap dancers. "During the prejudice years, country clubs were not integrated," said Bates, "and I started thinking how blacks might like to have a country resort just like any other race of people."
After selling the property in 1989, Bates continued to perform and teach. He appeared before youth groups, senior citizens, and handicapped groups, spreading his philosophy of being involved no matter what life's adversities and encouraging youngsters to be drug-free and to pursue an education. "Life means, do the best you can with what you've got, with all your mind and heart. You can do anything in this world if you want to do it bad enough," he often said. Bates' tap dancing was melodically and rhythmically enhanced by the combination of his deep-toned peg, made of leather and rubber-tipped, and the higher-pitched metallic tap shoe. He was also accomplished in acrobatics, flash (executing spectacularly difficult steps involving virtuosic aerial maneuvers) and novelty dancing. He consistently proved himself beyond his peg-legged specialty, surpassing other two-legged dancers to become one of the finest rhythm dancers in the history of tap dancing. In 1992, Bates was Master of Ceremonies at the National Tap Dance Day Celebration in Albany, New York, where he received a Distinguished Leadership in the Arts Award. In 1991, Bates was honored with the Flo-Bert Award by the New York Committee to Celebrate National Tap Dance Day. He died in Fountain Inn, South Carolina, just a mile and a half from the place where he lost his leg.