Henry Le Tang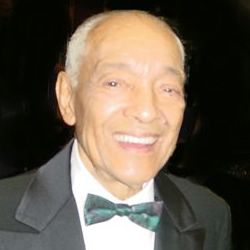 Henry LeTang, the Broadway tap dancer and choreographer who taught and created routines for countless entertainers, was born Henri Christian LeTang on June 15, 1919, in Harlem, New York City, the fourth of five children into a West Indian family; his father, Clarence LeTang; his mother, Marie Martin, from St. Croix. He gravitated toward dance early in life and at the age of seven, after having seen a dance recital, became entranced by tap dance. He encouraged his parents to enroll him with Harlem dance teacher Ella Gordon, who took the aspiring ten-year old to the famed choreographer and teacher Clarence "Buddy" Bradley, who was teaching at the Billy Pierce Studios in Manhattan. Bradley helped LeTang develop as a performer and teacher, making him a studio assistant. At the age of sixteen, LeTang was working for such white blues singers as Sophie Tucker, touring with her as far as Chicago, until his mother brought him back to New York. He also worked with big bands, such as that of Lucky Millinder, who began his career as a dancer, working in cabarets and ballrooms before becoming a bandleader. When not dancing, LeTang haunted the theaters, learning everything he could through observation. It was at this time that he was taken under the wing of the great rhythm tap dancer John Sublett Bubbles who tutored LeTang in steps and the presentation of tap choreography.
In 1937, at the age of seventeen and having polished his own technique, LeTang opened his own studio off Broadway and quickly became known as the "teacher of stars." One of the first stars to emerge from those he taught was Betty Hutton. LeTang choreographed tap routines for the Hines Kids (Gregory and Maurice) when they started in show business. He worked with Lena Horne, when she was an up-and-coming talent, and with Billy Holiday. He also worked as a choreographer in a variety of venues, from the Apollo Theater to fraternal organizations. In 1959 LeTang married Eleanor lpps, a dancer who had studied with LeTang, as well as with Katherine Dunham and Anne Frank. She left her career in medical pathology in 1971 to work full time as LeTang's studio assistant, offering considerable organizational skills and artistic support. The LeTangs created an environment intended to nurture the whole performer, offering classes in voice, acting, and other dance forms. The working partnership continued when the LeTangs relocated to Las Vegas. Ellie LeTang passed away in 2002.
LeTang's inimitable style transformed and emphasized the importance of choreography for nightclub performers, thereby establishing him as one of the country's foremost motion stylists, creating specialty dances for Joey Heatherton, Lola Falana, Flip Wilson, Ben Vereen, Leslie Uggams, Bette Midler, Milton Berle, and former boxing champions Sugar Ray Robinson and Joe Frazier. In addition, Hinton Battle, Debbie Allen, Peter Gennaro, and Chita Rivera all studied with him. He is known for his simple rhythmic lines that crescendo, for the repetition of flashy steps, and for choreographic structures that make the sounds clearly accessible to audiences. In the Broadway hit Eubie! (1978), LeTang's choreography captured a sense of tap dancing of the 1920s. As one of three choreographers who shaped the dancing in the Broadway hit Sophisticated Ladies (1981), starring Gregory Hines and Judith Jamison, LeTang earned two Tony Award nominations, a Drama Critics Award and Outer Circle Award. Other Broadway musicals include Eubie Blake's Shuffle Along (1952), starring Pearl Bailey; Crazy With the Heat (1941), My Dear Public (1943), Dream With Music (1944), and the Tin Man's dance in the musical, The Wiz (1979).
In 1989, LeTang became one of four choreographers of the Broadway hit Black and Blue; his ensemble number, "The Rhythm Man," was the rousing Act I finale and earned him a Tony Award (along with Fayard Nicholas, Frankie Manning, and Cholly Atkins) for Best Choreography of a Musical. He also staged nightclub acts and concerts for Jack Albertson, Debbie Allen, Hinton Battle, Lola Falana, Joe Frazier, Peter Gennaro, Joey Heatherton, Gregory & Maurice Hines, Lena Horne, Bette Midler, Sugar Ray Robinson, Leslie Uggams, Ben Vereen and Flip Wilson. On film, LeTang choreographed Francis Ford Coppola's The Cotton Club (1984), Tap!(1989), starring Gregory Hines and Sammy Davis, Jr., and Bojangles (2001), starring Hines. The Henry LeTang School of Dance is on both the East and West coasts.
LeTang is known for his innovative choreography and his generous willingness to impart eight decades of tap knowledge to generations of young dancers. His fine work has been represented on Broadway by his students and stars of Bubbling Brown Sugar, Guys and Dolls, My One and Only, and The Tap Dance Kid. The legendary Bill "Bojangles" Robinson summed up LeTang's choreographic talent by saying "That young man's staging is really copasetic." In 1995, LeTang received the Living Treasure in American Dance Award from the Oklahoma City University School of American Dance and Arts Management. He died on April 26, 2007 in Las Vegas, Nevada.